Atwater Cosmos Grove City School Board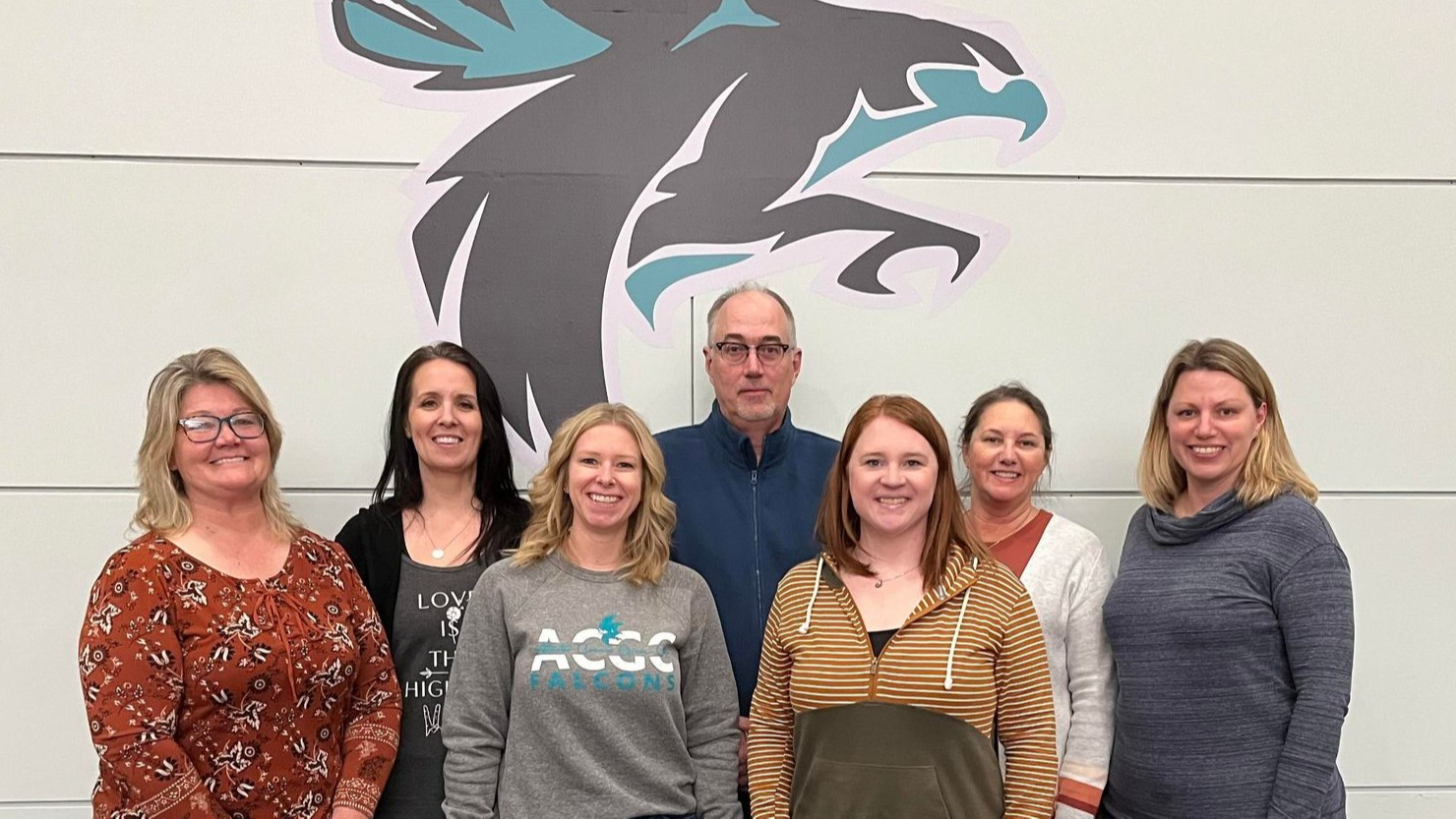 SCHOOL BOARD MEMBERS AND ASSIGNMENTS
NEGOTIATIONS
(Certified, Non-certified & Administration)
Sarah Blom
Megan Morrison
Scott Stafford

FACILITIES
Katie Cunningham
Traci Smith
Scott Stafford

TRANSPORTATION
Christine Buer
Megan Morrison
Katie Cunningham

FINANCE & BANKING
Jeanna Lilleberg
Scott Stafford, Traci Smith
POLICY
Jeanna Lilleberg
Sarah Blom
Christine Buer
STATE HIGH SCHOOL LEAGUE
Katie Cunningham

SCHOOL BOARDS ASSOCIATION
Jeanna Lilleberg

LITTLE CROW TELEMEDIA NETWORK
Traci Smith

LEGISLATIVE LIAISON
Scott Stafford

COMMUNITY EDUCATION
Sarah Blom

DISTRICT ADVISORY COMMITTEE
Megan Morrison
COMMUNICATING WITH THE SCHOOL BOARD
The ACGC School Board understands the value of input from stakeholders in the school district, including students, parents, staff, and community members. As elected representatives, they are challenged with representing the school district's stakeholder concerns, direction, and interests about our district's efforts.
To ensure the effective administration of schools, proper line authority, and prompt attention to concerns, you are encouraged to initially refer non-policy issues or concerns about an individual or student through the following channel:
Teacher/Coach/Advisor, if appropriate

Building principal or another administrator or supervisor

District superintendent
There are several ways to communicate with the School Board:
Contact the Superintendent/Board Members: To contact all School Board Members, contact Kip Lynk, Superintendent at 320-244-4712 or Lynk.Kip@acgcfalcons.org. Your email may also be forwarded to all School Board members for review.


Add Item to a School Board Meeting Agenda: If you have an issue that requires a more extensive review, please contact Interim Superintendent Kip Lynk at Lynk.Kip@acgcfalcons.org or at 320-244-4712. During this conversation, you can discuss the potential to be on the agenda of an upcoming School Board meeting. Individual School Board Members and the Superintendent can also assist district stakeholders in determining when a concern or issue should be directed to the School Board or if it should be referred to the appropriate district staff member.


If, after conversations with the Superintendent, it is determined that addressing the School Board is an appropriate next step, community members can be added to the agenda to speak during Public Comment time at a regular board meeting.


Procedures for Public Comment time: Comments from the public are restricted to the designated Public Comment time. Only individuals recognized on the agenda are able to speak. Each speaker will have 5 minutes for their comment time. Other members of the public are not allowed to interrupt or blurt out commentary unless recognized by the Chair. Members of the public shall not applaud, engage in conversation, or engage in other behavior through words or actions that may disrupt the proceedings of the Board.


The School Board shall, as a matter of policy, protect the legal rights to privacy and due process of employees of the District. District employees have a legal right to privacy related to their private, confidential, or non-public personnel data as provided by Minnesota Statues 13.43.


Public comment time is a listening only time for the Board. The Board will not engage in dialog with the presenters. Speakers are to direct their remarks to the Chair of the Board.


If, at any time, a speaker does not fall within these outlined procedures, opportunity for their public comment time will have to end.
| Date | Times | Location | Type | Agenda | Minutes | |
| --- | --- | --- | --- | --- | --- | --- |
| July 25, 2022 | 6:00 PM | Grove City | Regular Meeting | | | |
| August 22, 2022 | 6:00 PM | Grove City | Regular Meeting | | | |
| September 26, 2022 | 6:00 PM | Atwater | Regular Meeting | | | |
| October 24, 2022 | 6:00 PM | Grove City | Regular Meeting | | | |
| November 15, 2022 | 7:00AM | Grove City | Special Meeting | | | |
| November 28, 2022 | 6:00PM | Grove City | Regular Meeting | | | |
| December 19, 2022 | 6:00 PM | Grove City | Regular Meeting | | | |
| January 9, 2023 | 4:30PM | Grove City | Re-Organizational Meeting | | | |
| January 23, 2023 | 6:00PM | Grove City | Regular Meeting | | | |
| February 27, 2023 | 6:00PM | Grove City | Regular Meeting | | | |
| March 13, 2023 | 7:30PM | Atwater | Special Board Meeting | | | |
| March 13, 2023 | 7:30PM | Atwater | Special Board Meeting - Agenda Addition | | | |
| March 27, 2023 | 6:00PM | Grove City | Regular Meeting | | | |
| April 24, 2023 | 6:00PM | Cosmos | Regular Meeting | | | |
| May 8, 2023 | 6:45PM | Atwater | Special Board Meeting | | | |
| May 22, 2023 | 6:00PM | Grove City | Regular Meeting | | | |
| June 12, 2023 | 6:00PM | Atwater | Special Board Meeting | | | |
| June 26, 2023 | 6:00PM | Grove City | Regular Meeting | | | |
| July 24, 2023 | 6:00PM | Grove City | Regular Meeting | | | |
| August 28, 2023 | 6:00PM | Grove City | Regular Meeting | | | |
| September 25, 2023 | 6:00PM | Atwater | Regular Meeting | | | |
| October 23, 2023 | 6:00PM | Grove City | Regular Meeting | | | |
| November 27, 2023 | 6:00PM | Grove City | Regular Meeting | | | |
| December 18, 2023 | 6:00PM | Grove City | Regular Meeting | | | |
Committee and Other Meetings
| Date | Times | Location | Type | Agenda | Minutes |
| --- | --- | --- | --- | --- | --- |
| July 15, 2022 | 2:00PM | Grove City | Negotiations Committee | | |
| September 21, 2022 | 4:30PM | Grove City | Policy Committee | | |
| November 1, 2022 | 6:00PM | Grove City | ACGC School Board Committee | | |
| November 17, 2022 | 7:00AM | Grove City | Health and Safety Committee | | |
| December 5, 2022 | 4:30PM | Grove City | ACGC School Board Committee | | |
| December 12, 2022 | 4:30PM | Grove City | Finance Committee Meeting | | |
| December 14, 2022 | 4:30PM | Grove City | ACGC School Board Committee | | |
| December 19, 2022 | 6:00PM | Grove City | Truth and Taxation Meeting | | |
| January 12, 2023 | 7:00AM | Grove City | Health and Safety Meeting | | |
| February 6, 2023 | 4:30PM | Grove City | Finance Committee Meeting | | |
| February 13, 2023 | 6:00PM | Atwater | School Board Committee Meeting | | |
| February 16, 2023 | 7:00AM | Grove City | Health and Safety Committee Meeting | | |
| February 20, 2023 | 7:00PM | Grove City | Finance Committee Meeting | | |
| February 21, 2023 | 6:00PM | Atwater | District Advisory Committee-CANCELLED | | |
| February 22, 2023 | 4:00PM | Grove City | Facilities Committee Meeting-CANCELLED | | |
| February 28, 2023 | 5:00PM | Grove City | Facilities Committee Meeting | | |
| March 7, 2023 | 2:00PM | Grove City | Negotiations/HR Committee Meeting | | |
| March 13, 2023 | 6:00PM | Atwater | School Board Committee Meeting | | |
| March 27, 2023 | 4:30PM | Grove City | School Board Committee Meeting | | |
| April 4, 2023 | 4:30PM | Grove City | District Advisory Committee Meeting | | |
| April 10, 2023 | 6:00PM | Atwater | School Board Committee Meeting | | |
| April 13, 2023 | 7:00AM | Grove City | Health and Safety Committee Meeting | | |
| April 24, 2023 | 5:00PM | Cosmos | Finance Committee Meeting | | |
| May 2, 2023 | 8:00AM | Atwater | Facilities Committee Meeting | | |
| May 8, 2023 | 6:00PM | Atwater | School Board Committee Meeting | | |
| May 9, 2023 | 8:00AM | Grove City | Negotiations Committee Meeting | | |
| May 26, 2023 | 7:30AM | Grove City | Negotiations Committee Meeting | | |
| June 6, 2023 | 5:30PM | Grove City | Finance Committee Meeting | | |
| June 20, 2023 | 7:00AM | Grove City | Negotiations Committee Meeting | | |
| July 25, 2023 | 7:00AM | Grove City | Negotiations Committee Meeting-Cancelled | | |
| August 9, 2023 | 9:00AM | Grove City | Negotiations Committee Meeting | | |
| August 14, 2023 | 6:00PM | Atwater | School Board Committee Meeting | | |
| August 30, 2023 | 9:00AM | Grove City | Negotiations Committee Meeting | | |
| September 20, 2023 | 4:15PM | Grove City | District Advisory Committee | | |
| September 20, 2023 | 1:00PM | Grove City | Negotiations Committee Meeting | | |
| September 25, 2023 | 7:00AM | Grove City | Negotiations Committee Meeting | | |
| October 9, 2023 | 6:00PM | Atwater | School Board Committee Meeting | | |
| November 13, 2023 | 6:00PM | Atwater | School Board Committee Meeting | | |
| December 11, 2023 | 6:00PM | Atwater | School Board Committee Meeting | | |