The JV and varsity baseball game at Paynesville on 4/18, has been moved to 4/19.

The softball and baseball games and the track meet on 4/14 are cancelled.

ACGC softball against Paynesville on 4/18, has been changed to 4/19. We are no longer playing at Sauk Centre on 4/19.

Today's JV baseball game is cancelled. 4/12/22

Today's JV baseball is cancelled.4/11/22

ACGC currently has openings for the following positions: Elementary School Teaching - ECFE, SR, SAC Coordinator - Special Education Teacher - Elementary Teacher High School Teaching - Special Education Teacher Secretarial/Clerical - Administrative Assistant - Elementary Substitute - Substitute Teacher - Substitute Teacher - Full Time - Paraprofessional Substitute Athletics - Football Coach - Jr. High
https://www.applitrack.com/acgc/onlineapp/jobpostings/view.asp?internaltransferform.Url=&all=1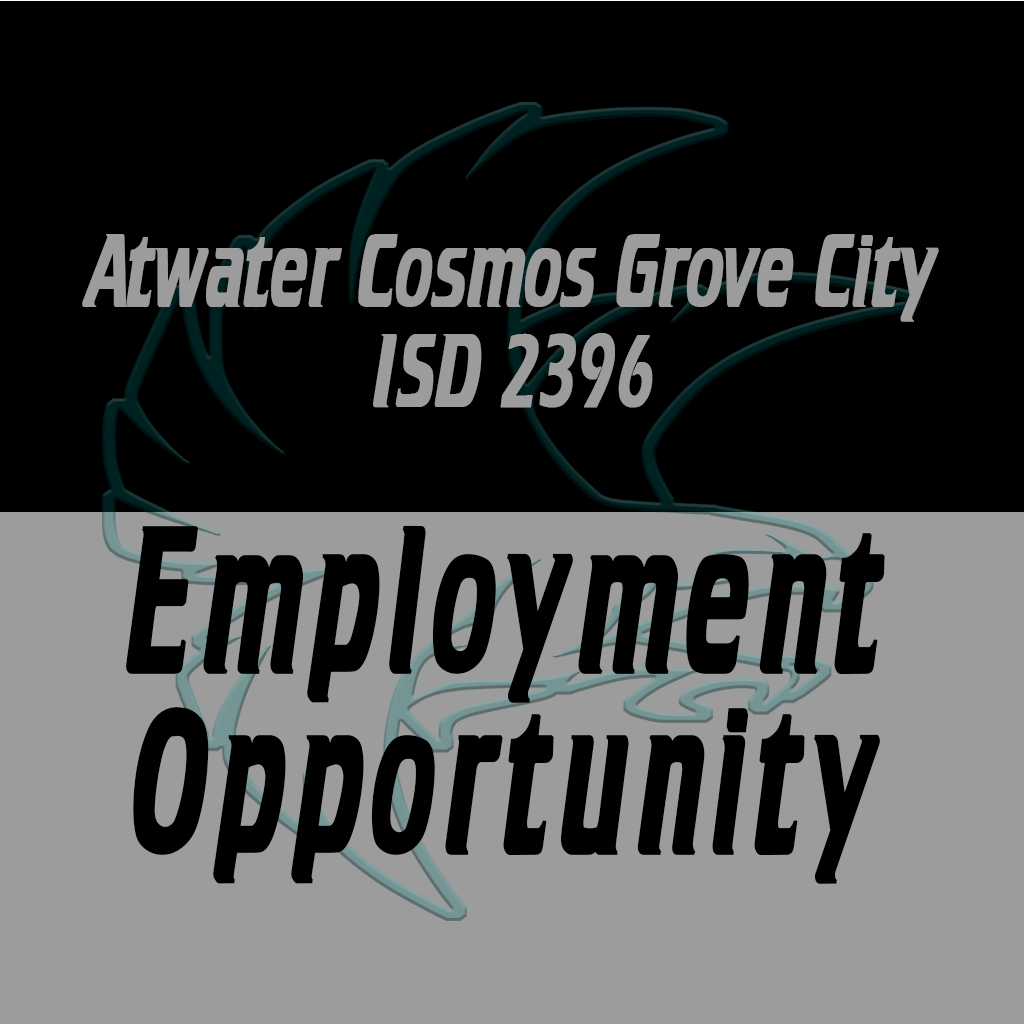 REQUEST FOR PROPOSAL FOR PRINTING, COPYING, AND MAINTENANCE SERVICES The Atwater Cosmos Grove City School District is accepting RFPs for printing, copying, and the associated maintenance of the devices that will occupy the offices and communal printing spaces located throughout the district's two buildings. The district will award a 5-year contract to a single provider for all requested devices. Please contact the District Office at 320-244-4639 to receive a complete copy of the proposal. The deadline to submit proposals is May 2, 2022 by 4PM.

The boys basketball banquet on 3/29 has been postponed.

A.C.G.C. ECFE presents Vehicle Fair! Location: A.C.G.C. Elementary School Sign up:
https://www.acgcfalcons.org/marvelous-mondays
Cost: $10 View vehicles used around the Atwater Community! Police Cars o Snow Plow Truck o Atwater Ford o Firetruck o Race Car o And more!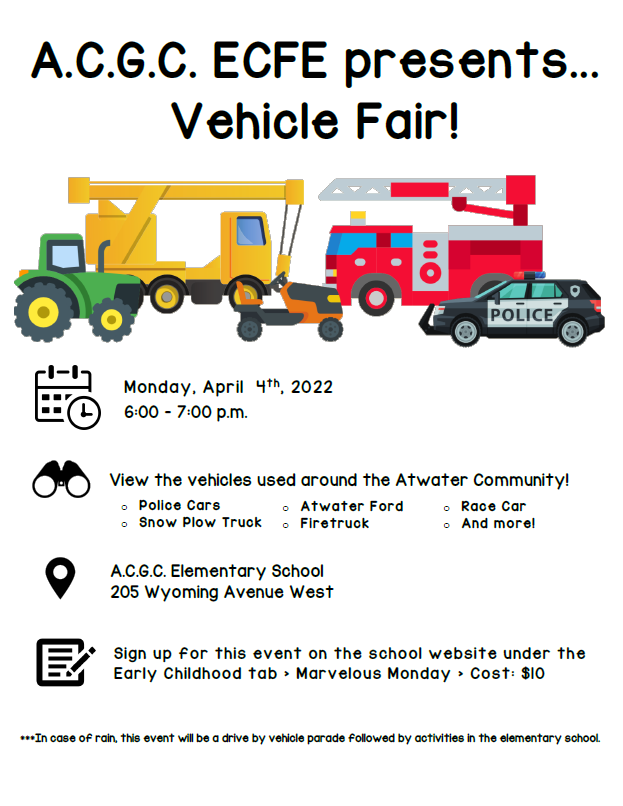 ACGC is taking applications for a Head Dance Coach and Assistant Dance Coach. The successful ACGC Dance Coach has a passion for dance and the ability to lead a competitive program. A coaching certificate from the MSHSL is required and/or a minor in coaching for Head Dance Coach. All qualified individuals are encouraged to apply. ACGC complies with state and federal fair employment regulations and does not discriminate on the basis of race, color, national origin, sex, disability, or age. If you have questions about the position, please contact Marj Maurer at 320-244-4623.
https://www.applitrack.com/acgc/onlineapp/jobpostings/view.asp?internaltransferform.Url=&category=Athletics%2FActivities

ACGC needs umpires for our junior high baseball and softball games. Contact Marj Maurer if you can help! 320-244-4623 Go Falcons!

5-12 Conferences Monday March 14th! 1:00pm to 7:30pm (Please note the time change) No appointment needed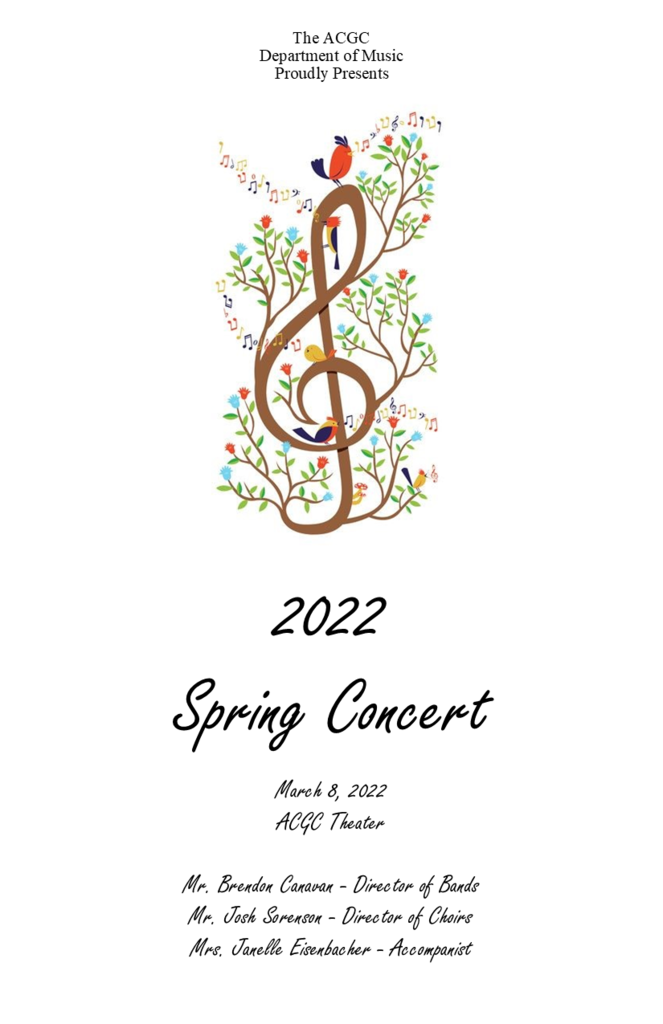 History Fair 2022 Open House March 10th, 2022, 9AM-Noon Award Ceremony at 6:30PM Community members are welcome to attend.

Boys and Girls basketball games are cancelled for this evening(2/18). (𝐂𝐀𝐍𝐂𝐄𝐋𝐋𝐄𝐃) 𝐆𝐢𝐫𝐥𝐬 𝐁𝐚𝐬𝐤𝐞𝐭𝐛𝐚𝐥𝐥 𝐕𝐒 𝐌𝐚𝐩𝐥𝐞 𝐋𝐚𝐤𝐞 (𝐇𝐨𝐦𝐞) (𝐂𝐀𝐍𝐂𝐄𝐋𝐋𝐄𝐃) 𝐁𝐨𝐲𝐬 𝐁𝐚𝐬𝐤𝐞𝐭𝐛𝐚𝐥𝐥 𝐕𝐒 𝐁𝐮𝐟𝐟𝐚𝐥𝐨 𝐋𝐚𝐤𝐞-𝐇𝐞𝐜𝐭𝐨𝐫 (𝐀𝐰𝐚𝐲)


ACGC Baseball clothing store is up! Use the link and store code to place orders before Feb 23. Store Code: ACGCBASE
www.rambow.com

ACGC Post Prom Fundraiser Breakfast and Silent Auction. Saturday, February 19 from 8-10:30 am at The Handle Bar in Atwater. This is a Free Will Donation Fundraiser. There will be a 50/50 Raffle (you do not need to be present to win). Come check out and bid on all the great Silent Auction items! See you there!

Section 2A Dance Team Competition - Saturday Feb. 12 All tickets must be purchased online, in advance - NO cash sales at the gate.
https://www.vancoevents.com/BBTK
Jazz begins at 11:00 am ACGC Performs at 11:20 High Kick begins at 12:45 pm ACGC Performs at 12:45pm

Thank you! MANY THANKS TO THE ACGC AND BUFFALO LAKE-HECTOR ATTENDEES OF THE MONDAY, FEBRUARY 7GIRLS BASKETBALL GAME! We collected 104 lbs. of food and $35 that was donated to the Meeker County Food Shelf.